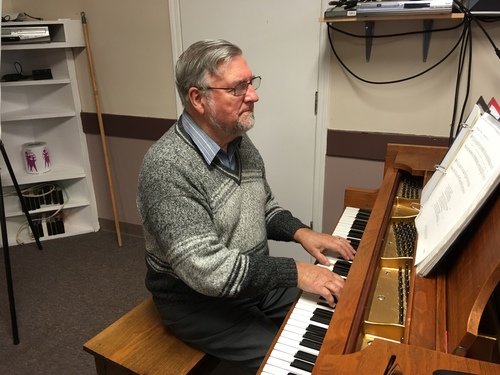 David Hitchcock
Assistant Music Director
Dave Hitchcock has been involved with church music since he was a child, playing a pump organ for his father's Bible Study group at the ripe old age of 9. He sang in the choir of his local Anglican Church in south-west England for many years. His interest in music broadened into a B.Ed. degree with an emphasis in music at St. Martin's College, University of Lancaster, and upon moving to Canada (ostensibly for one year!) at the University of Alberta, where he also received a degree in Educational Administration. Other music studies took him to Hungary for six months, in conjunction with a Diploma in Fine Arts completed at the University of Calgary in the 1980's.
Dave's work as a school principal in Alberta enabled him to provide active support for fine arts not only within his school, but also throughout the wider school division. From 1974 through 1999, the year he retired, he produced an annual operetta, which was renowned for involving not only the students, but also the staff of the school. In his latter years as principal the school commissioned several original operatic works for the students to perform, one of which, The Raven King, was presented by his students at the Banff School of Fine Arts during the summer of 1999.
After two years of contract work for Alberta Education, Dave and his wife Ursula decided to move to Qualicum Beach in 2001, where he has since been actively involved with St. Mark's choir, and as hand bell choir director, and pianist for worship services.