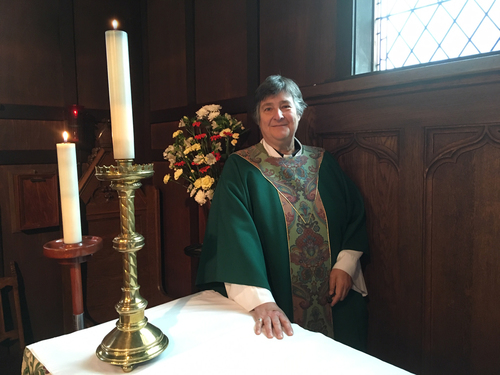 The Venerable Elizabeth Northcott is the incumbent here at the Parish of St. Mark in Qualicum Beach. We give our blessing and support to her journey here in our parish.
She had been serving as the Incumbent of All Saints Anglican Church in Ladner BC since 2008 and also as the Archdeacon of Westminster for the last three years. Since arriving at All Saints, the parish has undergone a major project of kitchen renovation as a vital part of the ministry plan to "feed God's people".
Prior to serving at All Saints, Elizabeth was an associate at St Mary's Anglican Church in Vancouver, from '97 until 2008. During that time Elizabeth also served on Diocesan Council, the Anglican Foundation Board and Youth programs in the Diocese of New Westminster. Christian Education and Pastoral duties have always been a major part of Elizabeth's strengths, however working with a team of dedicated lay leaders, Elizabeth presently provides leadership in the South Delta community within the Ministerial Committee and writing a Ministers Minute for the local news paper, The Optimist.
Elizabeth's education began in Fredericton New Brunswick with an undergraduate degree in Forestry Management (BScF) followed by a certificate in French from the Universite du Quebec a Trois Rivieres. These skills proved helpful in work as the Executive Director of the Nova Scotia Forestry Association.
From here, Elizabeth continued her theological training at McGill University and Montreal Diocesan Theological College, graduating in 1991 (MDiv) and then becoming the second woman to be ordained in the Diocese of Fredericton that same year. Elizabeth has served as Chaplain and teacher at Rothesay Collegiate/Netherwood School, Parish Priest at the Parish of East Saint John, Associate Priest at St Mary's in Kerrisdale Vancouver and most recently at All Saints in Ladner, BC.
Elizabeth and her spouse Susan have owned a house in Qualicum Beach for the last 10 years and enjoy life with two grandchildren who live moments down the road in French Creek.